11 Days of Global Unity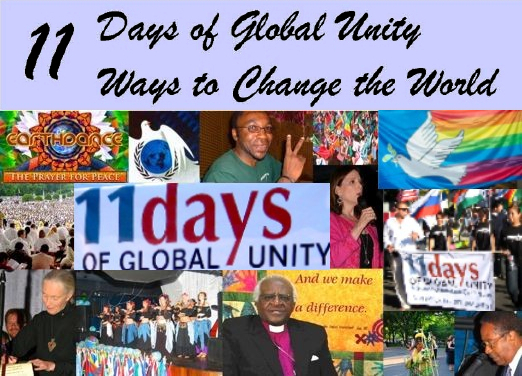 Click here to learn more about the 11 Themes
11 Days 2012 Partner Highlights - Press Release

View Calendar & Post your Events and Programs
---
Never before have so many voices spoken out so clearly about building a shared sustainable culture of peace, economic justice and environmental stewardship. 11 Days of Global Unity, first started by We, The World and partners in 2004, provides a platform for change agents worldwide to raise awareness and take action collectively utilizing the 11 Global Unity Campaign Themes which together form a blueprint for a world that works for all.
Activities around the 11 Campaigns take place all year long with a special global focus starting September 11th and culminating on September
21st, the UN International Day of Peace.

We invite you to join this worldwide movement of people, organizations and businesses taking action in "11 Ways" for a peaceful, just and sustainable world.
Lift Your Voice – Join the Chorus
Your participation will contribute an essential piece to the incredible mosaic that is quietly shaping the future of our world. During the 11 Days, and the months leading up to them, we invite you to join this global campaign in a variety of ways:
Register your organization, initiative or action and you will be added with a link and description to our 11 Days Partner Page

 

List your events and announcements on our Global Unity Calendar
Make a donation to sustain our efforts in promoting the 11 Days 11 Ways Campaign
This e-mail address is being protected from spambots. You need JavaScript enabled to view it

 

and explore other possibilities of how you and your organization can participate today.
Together we can build a world that works for all.
This e-mail address is being protected from spambots. You need JavaScript enabled to view it
The Origin of 11 Days of Global Unity
The U.N. International Day of Peace was started in 1981 as a day to announce and celebrate ceasefires in conflict areas around the world. It began as a moveable date taking place on the opening day of each new Session of the U.N. General Assembly in September. In 2001 the opening day of the new U.N. Session was scheduled for September 11th. So the International Day of Peace actually coincided with the tragedy of 9/11. A U.N. resolution permanently fixed the International Day of Peace on September 21st.
In 2004 We, The World launched 11 Days of Global Unity September 11-21 symbolically marking the transformative global journey from fear to hope. Supporters of the launch included Nobel Peace Laureate Archbishop Desmond Tutu and  11 Days Honorary Co-Chairs Jane Goodall, Deepak Chopra, Irene Khan (Secretary General of Amnesty International), Marianne Williamson, John McConnell (one of the original Founders of Earth Day), Hazel Henderson, Ervin Laszlo, Jonathan Granoff, Barbara Marx Hubbard, Robert Thurman, Sally Fisher, Riane Eisler, Lynne Twist, Paul Winter, Nina Meyerhof, and New York City Councilman Alan J. Gerson.
---
All agents of social change who recognize their own work in one or more of the 11 Days - 11 Ways themes, as well as those who provide the financial support that makes their work possible, are invited to join in this global campaign of unity.
May Peace Prevail on Earth