Connect, Mobilize, Accelerate Global Social Change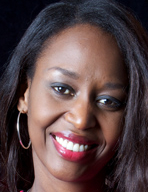 WE - a global campaign of We, The World to unite and amplify the efforts of
people, organizations and movements working for the common good
Join visionary leaders and endorsers of WE:
Desmond Tutu, Jane Goodall, Deepak Chopra, Immaculee Ilibagiza,
Robert Thurman, Riane Eisler, Bill McKibben and many others.
---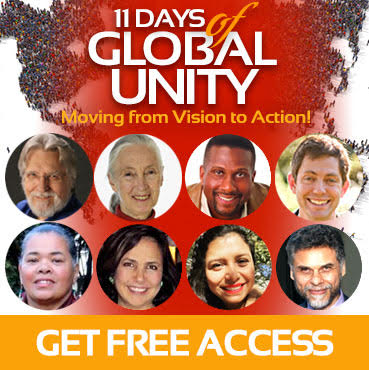 Featuring some of the most Visionary Thinkers

and Activists of our Time
Including Jane Goodall, Tavis Smiley, Neale Donald Walsch, Ocean Robbins, Earth Guardians and many others

Participate by computer or phone from anywhere worldwide!
Sept 11 UNITY - Neale Donald Walsch, Steve Farrell
Sept 12 INTERDEPENDENCE - Zoe Weil
Sept 13 ENVIRONMENT - Jane Goodall
Sept 14 ECONOMIC JUSTICE - Tavis Smiley
Sept 15 HEALTH - Ocean Robbins
Sept 16 CHILDREN & YOUTH - Aji Piper and Rachel Marco-Havens
Sept 17 WOMEN - Joumana Rizk and Swamini Krishnamrita
Sept 18 HUMAN RIGHTS - Gabriela Quntanilla and Kemberly Gil
Sept 19 FREEDOM - Audri Scott Williams
Sept 20 DISARMAMENT - William Hartung
Sept 21 PEACE - Monica Willard
---
If you think organizing for CHANGE
is more important than EVER
Please support the WE Campaign now!
You can make a quick, secure, tax deductible donation:
---
Promote your organization to a Global Audience
(see Featured Partners below)

Thank you for the difference you are making in the world!
---
A free way to support We, The World and the WE Campaign is by shopping through Goodshop! Goodshop works with thousands of stores like Seventh Generation and Equal Exchange, so that up to 20% of purchases will be donated back to We, The World, at no cost to you! Places like Indigenous Fair Trade + Organic offer many ways you can actually save money while supporting us! Click on Goodshop above or click here and you will automatically choose We, The World for donations. Then search on "
Seventh Generation"
or any other store you want. You can search on words like
"Organic" or "Fair Trade" to find stores or items that are produced sustainably and meet values of global citizenship.
Thank you so much!
FEATURED PARTNERS & SUPPORTING ORGANIZATIONS




Click here to see Bill McKibben's video for the WE Campaign

350.org is building a global grassroots movement to solve the climate crisis. Our online campaigns, grassroots organizing, and mass public actions are led from the bottom up by thousands of volunteer organizers in over 188 countries.

350 means climate safety. To preserve our planet, scientists tell us we must reduce the amount of CO2 in the atmosphere from its current level of 392 parts per million to below 350 ppm. But 350 is more than a number—it's a symbol of where we need to head as a planet.

">
Do the Math: A Movie to Spark a Movement

Do The Math follows the climate crusader Bill McKibben as he works with a rising global movement in a David-vs-Goliath fight to change the terrifying math of the climate crisis. The film also features a veritable who's who of the climate movement including Dr. James Hansen (Director, NASA's Goddard Institute for Space Studies), Naomi Klein (Author, The Shock Doctrine), Lester Brown (President, Earth Policy Institute), Van Jones (CNN Correspondent & Author, The Green Collar Economy), Bobby Kennedy Jr. (President, Waterkeeper Alliance ), among others.

Message from Co-Founder Bill McKibben for The 350.org Team: We're sending a clear message to our political leaders: "If we can get to work, so can you!" It's vital that we keep the pressure on world leaders in the coming days and weeks. We could use more phone calls to let politicians know we expect them to take the lead on the climate crisis. Please take a few mintues today to make a quick call by using our easy call-in gadget--our leaders won't hear our message if we don't send it to them: http://www.350.org/en/call-leaders. You are helping shape the future of this planet, and we are deeply grateful for everything you do.

---


Roots & Shoots 

Roots & Shoots, a program of the Jane Goodall Institute, is a powerful, youth-driven, global network of tens of thousands of members in more than 120 countries. Together, youth of all ages are taking action to improve our world through service learning projects that promote care and concern for animals, the environment and the human community.

Roots & Shoots is guided by the founding principles and extraordinary vision of Dr. Jane Goodall, renowned primatologist, environmentalist and humanitarian. Her firm belief that young people, when informed and empowered, when they realize that what they do truly makes a difference, can indeed change the world, is at the very heart of our program. Roots & Shoots not only motivates young people to learn about pertinent issues facing our local and global communities, but helps them actually design, lead and implement their own projects as a means of solving them.

Following Dr. Jane's lead as a UN Messenger of Peace, members and friends of Roots & Shoots are called to celebrate peace each year in honor of United Nations International Day of Peace.

---

For nearly a century, Amalgamated Bank has been a financial institution with a purpose: affordable and accessible banking for all. Offering customers nationwide the products and services of a major financial institution, Amalgamated is committed to the values on which it was founded. We proudly advocate for workers' rights and promote the highest standards of environmental, social and corporate governance practices, which is why we are the first choice of progressive organizations and people – from presidential campaigns and labor unions to individuals who want a bank that believes everyone should be able to participate fully in our economy.

Amalgamated Petition to Raise USA National Minimum Wage to $15/hour

Amalgamated Bank became the first bank in the USA to pay $15 an hour Minimum Wage for all employees, and calls on the Banking Industry to join the Fight for $15

---

Principled Societies Project

 

Building Strong, Resilient, Green, and Fair Local Economies - The Principled Societies Project is a science-based effort to design and test new local monetary, finance, and corporate systems that improve well-being and speed the transition to a sustainable society.

---

Travel Ticker is donating money to Non-Profit Organizations including We, The World while saving people money on travel!

---

We Are Donating Money to Non-Profit Organizations  After having saved money for tens of thousands of consumers, we decided to take our mission one step further. We launched a financial campaign to help non-profit organizations to fight their causes. So far we have already given financial support to over 100 different organizations ranging from animal welfare to health-care to education. Save money as a consumer, receive funding as a Non-Profit Organization!

---

Audrye S. Arbe is Author of What If? You Are and Life Is... Miraculous!!! and The Mother's Manual A Spiritual and Practical Guide to Child Rearing and Motherhood, available at Amazon & B&N. Audrye conducts healing sessions and seminars including about Enagic Kangen (R) Water (learn more here).

---

Healthlinks

A comprehensive listing of Health and Wellness websites for Holistic, Integrative, Functional, and Alternative Medicine modalities and practices.

---

The Sphynix Project

Our mission is to meet the basic needs of clothing and life sustaining goods primarily to foster children and then to the general community that we serve.

---

New York Society For Ethical Culture

Ethical Culture is a religion centered on ethics, not theology, whose mission is to encourage respect for humanity and nature and to create a better world.

---

Irthlingz Arts-Based Environmental Education

Our mission is to engage, educate, inspire and empower people to become active stewards of the Earth. We use music, theater and video to pleasantly wake people up!

---

Green City Challenge

The mission of Green City Challenge is to educate New Yorkers about ways to live, work and eat green in a fun and exciting manner.

---

An accredited institution known for training extraordinary psychology practitioners.

---

C

ollective Communication, Inc.

Using InterMix community software, CCI gives groups each their own separate voice while building common voices for women, men, youth and humanity as one.

---

A FREE Five Part Teleseminar

August 5th to December 2nd 2012

click here

---


World Wide Peace Bell Foundation

The World Wide Peace Bell Foundation aspires to build strong, flexible bridges of understanding that strengthen the unity in community through our most universal language, music, and the metaphor of the bell.

Peace Bells have been a world icon for centuries but the Peace Bell movement began in earnest after the bombing of Hiroshima and Nagasaki.

Join us and many other partner organizations in ending this global culture of war and ring in a world culture of Peace.

---


Our society has made tremendous scientific and social progress. So why do unemployment, environmental destruction, and poverty persist? At the Henry George School you will discover the true cause of and cure for problems such as low incomes, poverty and unemployment. You will understand why so few are so wealthy, while others go without basic necessities.

---

The mission of the Leadership Training Programs is to foster the conscious development of leaders, empowering them to effect positive change in themselves, their organizations and the world. The Leadership Training programs seeks to enhance and enrich a heightened sense of purpose, clarity of mind, renewed passion and professional excellence.

The Leadership Training Programs develop well rounded leaders whose moral, ethical and spiritual capacities, life skills and vision will be able to meet the demanding challenges of running a corporate organization. This training is designed to help organizations and institutions develop a clear, concise and specific purpose, articulate their mission while training their leaders and aligning their resources to meet the challenges facing corporate, educational, or non-profit organizations in the new millennium.

We offer a wide variety of specialized services tailored to meet the individual needs of our clients: Peer Forums, Executive Coaching, Seminars, and Personalized Trainings. Free initial consultation.

---




 

 

Savvy Marketing Entertainment Group is a full service entertainment marketing and public relations company servicing individual and corporate clients throughout the United States.  Service areas include:

Entertainment Marketing/publicity campaigns for music, theater, film, sports and social events.

Media placement (Print, On-line, and Broadcast)

Special Event Marketing/Production

Entertainment Management

---

Philo Music Therapy is a Self Therapy, Self-Fulfillment Process. The purpose of practicing Philo Music Therapy is:


To help you achieve exquisite relaxation.

To help magnetize you to fulfilling and enjoyable life-results.

To transcend and overcome concerns, fears, frustrations,and hurts.

To feel good, and proceed happily and effectively through your day with positive energy.

---

Peacelights is about working for peace at all levels, both inner and outer. This is captured in the 4 Waves of Peacelights: Inner Work (making peace with our shadows, the parts of us that are repressed by our culture), Remapping Relationships (honoring both feminine and masculine energies in our relationships), Authentic Public Expression (Peacelights Connect for Peace Events create public acts of peace that are spontaneous and filled with childlike innocence) and Shining Your Light (connecting to others around the world to form a network of social activism).

Peacelights offers a holistic approach with programs stretching from the personal to the political. For example, Peacelights Coaching offers a step-by-step process to create deep connections with yourself and others, remove negativity from relationships not working for you, and free your energy to create a peaceful life that you love. Peacelights Consulting is a focused, customized way to connect deeply with customers and employees.

---

 

 

 


Parents Forum

Parents Forum seeks to foster honest, respectful and caring communications in families. We do this by helping parents and their allies develop emotional awareness. The Parents Forum program can be licensed by community-based organizations and our prize-winning handbook, Where the Heart Listens, is available in print, ebook and audiobook. Let us hear from you!

---

Empowering People Worldwide To Be Active Philanthropists

---

Bella Organici has made a generous ongoing pledge of support for We, The World and the WE Campaign!

---

International Peace Every Day Treaty For Global Truce and Global Cease Fire Proposal

An open letter to all world leaders and the secretary General of the UN for all humanity's help to advocate for a global truce and a global cease fire.
Four Years. Go.

Four Years. Go. is a global campaign and an initiative of Pachamama Alliance. Four Years. Go. is a growing coalition of organizations and individuals committed to producing a transformational shift for humanity—one that sets us firmly on a path to a sustainable, just and fulfilling future—within the next four years.

 Four Years. Go. is a rallying call asking us all to…

Wake Up to the enormous harm we are doing to Earth and ourselves
Wake Up to the profound opportunity we have now to create a future to match our deepest longing and greatest dreams
Become change agents in redirecting humanity's current path from self-destruction to sustainability
Do it now. Don't wait for any one or anything. And complete it by 2014.

dotSUB Presents a Challenge: 100 Languages for Interdependence

Help translate "

A Declaration of Interdependence

", the globally crowd-sourced film, by Webby Awards Founder & award-winning filmmaker. Tiffany Shlain, featuring music by Moby and translations enabled by

dotSUB

,

www.dotSUB.com

. Together with skilled volunteers from around the world, we will translate this new 5-minute film into 100 or more languages as a multi-cultural celebration of interdependence in action. Apply Now!

Please see this link: http://dotsub.com/id11