Meet the Founder,
Rick Ulfik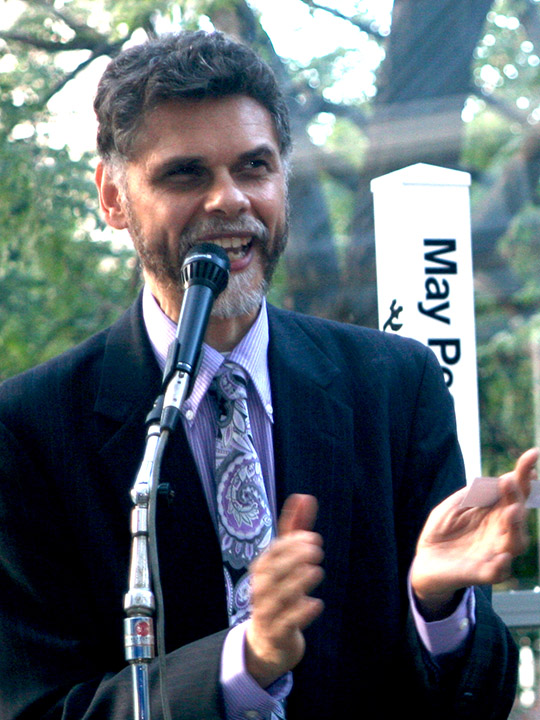 Rick Ulfik is Founder and Board Chair of We, The World, Founder and a Principal Organizer of the WE Campaign at WE.net, a global network of collaboration and action.
He is Co-Creator and Principal Organizer of 11 Days of Global Unity – 11 Ways To Change The World, a platform for change agents worldwide to raise awareness and take action collectively. He is also Co-Producer of Visual Voices TV Series which was featured on the Dish Network and available in 15 million homes.
Rick is a Nonviolent Communication (NVC) workshop facilitator and leader. He has been working with NVC since 2004 and has participated in many workshops led by internationally acclaimed mediator and creator of NVC Marshall Rosenberg, who also joined the Advisory Board of We, The World.
Rick is also an accomplished composer and musician (keyboards) who has written, produced, arranged, conducted and performed music for ABC TV, NBC TV, CBS TV, the Olympics, radio, feature films, commercials, records, other media, and for major recording artists including Queen Latifah, Phoebe Snow, Carlos Santana, Bernadette Peters and Judy Collins.
WORK IN SOCIAL CHANGE ORGANIZING
Rick Ulfik is the Founder and Board Chair of We, The World, a non-profit organization that develops global networks of collaboration and action to build mass involvement in the work of creating a peaceful, caring, sustainable world. Advisors and supporters include Nobel Peace Laureate Archbishop Desmond Tutu, Dr. Jane Goodall, Dr. Deepak Chopra, Daniel Ellsberg, Dr. Riane Eisler, Bill McKibben, Robert Thurman, William Schulz (Amnesty International USA Executive Director 1994-2006), Patch Adams, Hazel Henderson, and about 70 others.
Rick is Founder and a Principal Organizer of the WE Campaign – www.WE.net This is a global campaign to unite and amplify the efforts of people, organizations and movements working for the common good.
Rick is also Co-Creator and Principal Organizer of 11 Days of Global Unity Sept. 11-21, an annual promotion of peace, sustainability and transformation that annually includes as many as 700 associated events in over 60 countries around the world. In 2004 We, The World and partners launched 11 Days of Global Unity as a breakthrough platform for linking local awareness and action campaigns into an inspiring international movement to create a world that works for all.
From 2004 to the present, participants in 11 Days of Global Unity have included:
Visionary Leaders
Archbishop Desmond Tutu, Jane Goodall, Deepak Chopra, Daniel Ellsberg, Amy Goodman, Bill McKibben, Eve Ensler, Arun Gandhi, Marianne Williamson, Patch Adams, Barbara Marx Hubbard, Robert Thurman, Hazel Henderson, Riane Eisler, Jonathan Granoff, Lynne Twist, Rabbi Michael Lerner, Helen Caldicott, Indigenous Grandmother Agnes Pilgrim, Nina Meyerhof and many others.
Global Organizations
Amnesty International, Oxfam America, United Religions Initiative, Jane Goodall's Roots & Shoots, the UN NGO Committee for the International Day of Peace, Earthdance, The Shift Network, The Compassion Games, Oprah Winfrey's Belief Team, Pathways To Peace, Culture of Peace Initiative, World Peace Prayer Society, Children of the Earth, Peaceday TV, Ecofest, Benjamin Barber's Interdependence Movement and thousands of other socially conscious organizations and businesses around the world.
In 2011 We, The World and partners took 11 Days to the next level with 11 Days of Global Unity – 11 Ways to Change the World which includes 11 Campaigns of Social Change.
11 Days includes concerts, festivals, webcasts and many other activities around the world. By combining artistic presentations, inspiration, consciousness-raising and taking action, 11 Days embodies our strategy of Inspire, Inform and Involve for moving humanity off the path of catastrophe and towards creating a peaceful, sustainable world.
Rick is the Host, Moderator and Principle Organizer of The 11 Days of Global Unity Tele-Summit 2014 and The 11 Days of Global Unity Tele-Summit 2015, which were co-produced with The Shift Network and promoted to over 300,000 people. The Summits featured some of the most visionary thinkers and activists of our time including Archbishop Desmond Tutu, Eve Ensler, Deepak Chopra, Daniel Ellsberg, Amy Goodman, Bill McKibben, Patch Adams, Helen Caldicott and Eckhart Tolle.
Rick was also Co-Producer of the Better World Forum 2012 an online, virtual conference and exposition with seminars, screenings, interviews and panels featuring Archbishop Desmond Tutu, Bill McKibben, Dot Maver, Deepak Chopra, John Perkins, Robert Thurman, Hazel Henderson, Jack Healey, Benjamin Barber, Rev. Deborah Moldow, Danny Schechter, Occupy Movement Organizers, Stephen Dinan and dozens of other leaders and teachers on the cutting edge of cultural, economic, environmental and political change.
MEDIA PRODUCTION
Rick co-produced Visual Voices a 13-part TV Series that presents voices in media, politics, culture and the arts who are shaping our world. It was broadcast on the Dish Network, available in over 15 million homes, and is currently running in New York City. He has also written, produced and directed two short films.
WORK IN MUSIC
Rick Ulfik is an award-winning composer, musician, sound design specialist and audio engineer who is well known and respected for his work in television, film, and many other media. During the last 30 years he has been a member of hundreds of television, film, commercial and other media production teams.
Composer Underscoring Credits include: The Fire Unleashed (ABC-TV 3-hour Prime Time Special with Peter Jennings), Growing Old in America (ABC-TV 3-hour Prime Time Special with Hugh Downs), Dangerous World: The Kennedy Years (ABC), Another World (NBC), Guiding Light (CBS), All My Children (ABC), The Olympics (NBC), French Tennis Open (NBC), NCAA Basketball (ABC), The Peace Corps (Harry Belafonte), Delta Airlines, VISA, Prudential Insurance, IBM, Estee Lauder, Sea World and many others.
Rick has done keyboard work, arranging, sound design and/or musical direction with the following artists: Queen Latifah, Phoebe Snow, Carlos Santana, Spike Lee's film production "New Jersey Drive", Kurtis Blow, Noel Pointer, DJ Mark James The 45 King, Samantha Sang, Sheryl Lee Ralph, Pete Seeger, Ester Satterfield, Judy Collins, Bernadette Peters, Jane Olivor, Rupert Holmes, Maureen Mcgovern, Musique "Keep On Jumpin'", Bernard "Pretty" Purdie, Jimmy Owens, Lester Chambers and many others.
Songwriting Credits include: Firesign (Record Label: RCA, Artist: Cory). Rick was the co-writer of 5 of the album's tunes, including the title track (which hit the Billboard and Record World Top 100 Charts).
AWARD RECOGNITION
Grammy Award nomination, Clio awards, and the Parents Choice, Kids First, and National Educational Media Network awards for excellence in musical educational materials.
AWARD JUDGING
Rick has served for many years and continues to serve each year as a judge for the Emmy Awards in the areas of News, Documentaries, and Music. He has also served as a judge for the Clio Awards and the NY Festivals Awards as well as the United Nations special UNESCO Award for excellence and social significance in documentary television.
SOCIAL CHANGE ORGANIZING BACKGROUND
For many years Rick has had a strong interest in being involved with groups that promote peaceful and fulfilling interactions. He was a co-leader and coordinator of the 1993 United Nations event "Celebration For the Children of The World" endorsed by Secretary General Boutros Boutros-Ghali.
He was one of several principal organizers of Michael Lerner's historic National Summit On Ethics And Meaning in Washington, D.C. in April of 1996 which was attended by 1,800 people and included David Korten, Corinne McLaughlin, Henry Louis Gates Jr., Marian Wright Edelman, Pete Seeger, Marianne Williamson, Daniel Ellsberg, Cornel West and many others.
He also was an organizer for the 1998 United Nations Gandhi/King Season For Nonviolence honoring the 50th and 30th memorial anniversaries of Mahatma Gandhi and Dr. Martin Luther King Jr. endorsed by the Dalai Lama and Kofi Annan with participation by close to 2,000 people including Jesse Jackson, Arun Gandhi, over 500 organizations, and events taking place in 115 cities.
As Co-Chair of the National Board of The Foundation for Ethics and Meaning, he was one of three principal organizers of Re-Imagining Politics and Society at the Millennium, a conference in May of 2000 which featured Wei Jingsheng, Cornel West, Michael Lerner, David Korten, Naomi Klein, Arianna Huffington, Mark Green, Patricia Ireland, Cora Weiss, Marianne Williamson, and over 200 other speakers from around the world.
Rick was the principal organizer of We, The World's Videoconference Series Building Peace and Security in the 21st Century started in 2003 which connects schools with the United Nations and featured speakers from around the world. Interacting with inspiring speakers like Dr. Jane Goodall and Congressman and Presidential Candidate Dennis Kucinich, students and others are supported and encouraged to create a dream and vision of peace, and then put their dream into action.
The videoconferences each involved hundreds of students, faculty and others (close to 1,000 total). Students and faculty interacted with speakers and came away informed, inspired and motivated to participate in many different kinds of peace activities. Education Update (a newspaper that reaches 200,000 parents, educators, and students) has made our Sept. videoconference the Cover Story of their 8th Anniversary issue! Utne Magazine website ran a feature story at the start of the series entitled "All About Solutions".
PREVIOUS TEACHING EXPERIENCE
After college, Rick was a math teacher, math tutor, and music teacher in the New York City Public School System. He has served as a High School Executive Internship Sponsor.
Subscribe to our

W

E

Campaign
Global Action Newsletter

🌍
Please Visit &

Support

Our Partners