Please Join Dr. Jane Goodall,
in Signing the Global Declaration of Interdependence!
PREAMBLE
In acknowledgment of the many existing documents and efforts that promote peace, sustainability, global interconnectedness, reverence for life and unity, We, The World hereby offers the following Declaration of Interdependence as a guiding set of principles. It is inspired by the Earth Charter, the essential values of which represent those of the many peoples of the Earth.
DECLARATION OF INTERDEPENDENCE
We, the people of planet Earth,
In recognition of the interconnectedness of all life
And the importance of the balance of nature,
Hereby acknowledge our interdependence
And affirm our dedication
To life-serving environmental stewardship,
The fulfillment of universal human needs worldwide,
Economic and social well-being,
And a culture of peace and nonviolence,
To ensure a sustainable and harmonious world
For present and future generations.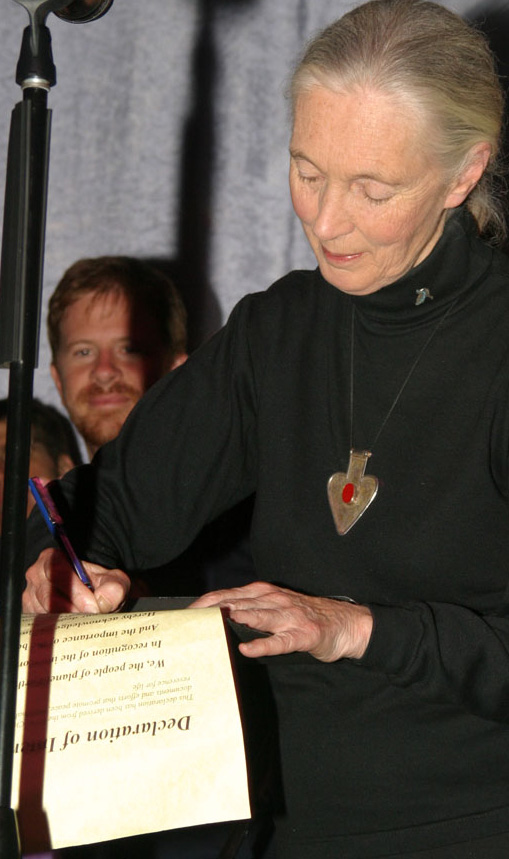 WE Connect, Mobilize, & Accelerate Global Social Change for a United Humanity!
WE, the World  is a global coalition-building non-profit organization based in New York City. Founded in 1998 by Rick Ulfik, WE, the World annually connects and promotes thousands of socially conscious organizations and businesses, representing millions of people, to amplify their efforts and generate public awareness and action for peace, justice, sustainability and transformation.
Advisors and Supporters include Archbishop Desmond Tutu, Jane Goodall, Deepak Chopra, Marianne Williamson, Bill McKibben, Immaculee Ilibagiza, Daniel Ellsberg, Barbara Marx Hubbard, Patch Adams, Hazel Henderson, Robert Thurman and about 70 other visionary leaders from around the world.
WE, the World is a Founding Member of Abolition 2000 – a Global Network to Eliminate Nuclear Weapons. We have Co-Sponsored many conferences, Teleseminars, Forums and Campaigns to end the threat of Nuclear Weapons.
As part of our Disarmament Campaign we are working closely with WE, the World Advisory Board Member and Nobel Peace Prize Nominee Jonathan Granoff and the Global Security Institute, as well as many other groups, raising consciousness and taking action to abolish Nuclear Weapons for a Livable Future.